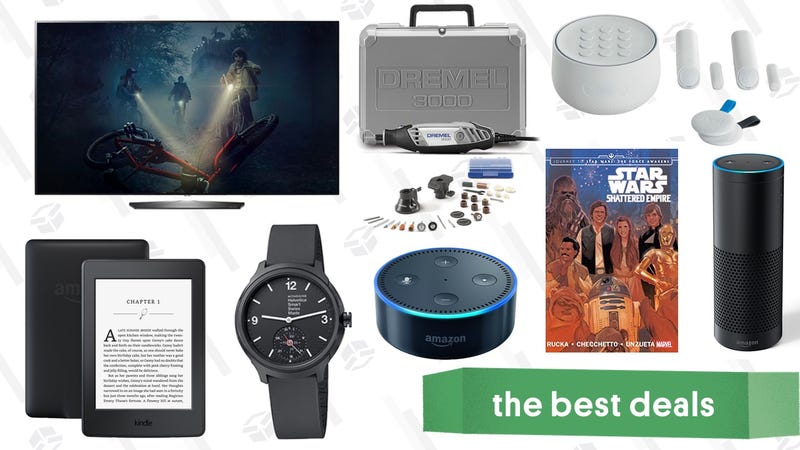 $15 bonus to Lowe's, discounted LG OLED TVs, a Dremel 3000, and more lead today's best deals.
Bookmark Kinja Deals and follow us on Twitter to never miss a deal.
Update: This deal is back in stock if you missed it a few weeks ago.

If you love inky blacks and vibrant colors—and who doesn't?—this 55" 2017 OLED LG TV is down to $1300 today on MassDrop (about $300 less than Amazon), or an all-time low $2000 for 65" (almost $600 less!).

As you'd expect from any high-end TV these days, that gets you a 4K panel and Dolby Vision HDR, but OLED technology means the blacks will be far richer, and the colors more vibrant than any LCD-based screen you can buy. Whichever size you choose, it'll still cost you, but your eyes will tell you it was worth it.
---
Now that it's warm enough to spend a day at the park or beach reading a book, you'll want to get your hands on a Kindle. Today only, both the entry level model and the Paperwhite are on sale today for $30 off, the best deals we've ever seen. My advice: Get the Paperwhite. It's not that much more expensive, and it's worth it just for the backlight, not to mention the sharper, higher contrast screen.
---
Alexa works best when it's always in shouting distance, so if you still have any rooms in your home without a smart speaker, you can fix that today with a slate of great certified refurb sales.

---
If you already have a magnetic plate tucked inside your phone case for use in the car, you might as well spend $9 to get a compatible magnetic mount for your desk. Just use promo code 87HFODR4 to get the deal, and yes, it does include a magnetic plate if you don't already have one.

---
If you need a new microSD card for your Switch, action cam, or smartphone, Samsung's U3-rated 64GB and 128GB cards are both on sale right now. They've both been a little cheaper on a few, short-lived occasions, but $20 and $40 represent the bottom of their usual price ranges.
---
At this point, most of the charging gear you purchase should probably have USB-C Power Delivery built in, and two of Anker's most popular and powerful chargers are on sale this week.

Both the two-port wall charger and five-port desktop charger put out 30W on their USB-C ports, which is enough to power a 12" MacBook, slow-charge a MacBook Pro, or juice up a Nintendo Switch even while you're playing it in handheld mode. Just be sure to note the promo codes.
---
Giant plugs that cover up half the outlets on your power strip should be outlawed, but until that day arrives, these short extension cords will have to do. $15 gets you a pack of 10 (with code DEALP5C9), which should be enough for even the most advanced home theater setups.

---
Will these noise-canceling Bluetooth over-ears sound as good as, say, Sony's? I doubt it. But they're significantly (significantly!) cheaper at just $40, and should still be able to turn down the volume on the background noise in your office, or on an airplane.

---
This car charger is one of our top selling products of all time, and it's easy to understand why. It's cheap (just $7 today with code AUKEYCS1), it's tiny, and it can charge two devices at 2.4A simultaneously, which is important when your phone is also playing music and giving you turn-by-turn directions.
---
They say solar power is getting cheaper and cheaper, and Amazon's hastening the trend with today's sale.

These 100W panels are ideal for RVs, boats, golf carts, tool sheds, or any other smallish application. You'll still need a charging controller, a battery, and an inverter, but you can find some suggestions in Amazon's related items, if you don't already have them. $100 is easily an all-time low, but it's only available today.
Or, if you want to take your power on the go, you can grab this complete Renogy backup power set for $352 as well. The suitcase includes a built-in 100W solar array, a battery, and AC and USB outlets for charging your gear. The maximum output is only 150W, so you won't be using this for high-draw devices, but it's great for laptops and emergency medical supplies.
---
eBay's running another big sale, this time taking 15% off hundreds of items with promo code PMEMDAY. This deal isn't sitewide, but you can browse through eligible items here, and sort through the deluge by category or by seller. Just note that there's a $50 minimum purchase requirement, and that the most you can save with the coupon is $50.

If you're a bit overwhelmed, I'd start by checking out the Anker, eBags, Cuisinart, and Worx outlets, all of which offer a ton of selection and great prices, even before you factor in the promo code. Dyson is also included, and is perhaps the brand with the best eBay presence of all. The 15% off plus the company's refurb discounts mean you can get a great vacuum like the Dyson V7 Animal for as little as $200.
---
Anker's reader-favorite PowerCore battery packs run the gamut from tiny tubes that fit into your pocket to massive blocks of energy that can power your devices for days at a time. This is definitely the latter.

The PowerCore+ 26800 is one of a handful of battery packs on the market with USB-C Power Delivery up to 27W. That means it can charge a 12" MacBook at nearly full speed, a Nintendo Switch at full power while you're playing Zelda on a plane, or an iPad Pro significantly faster than the charger it came with (if you have a USB-C to Lightning cable).
At $80 (with promo code ANKERPD3), this is a bit more expensive than some other options we've seen, but there's good reason for that. Unlike most competitors, this battery includes a 27W USB-C wall charger, which can recharge the entire battery in under five hours, compared to over 11 hours with a standard 2A USB charger. When you're trying to juice up before a flight, every minute counts. You can also use the wall charger as a spare MacBook or Switch charger as well.
---
We see deals all the time on USB-A to USB-C cables, but discounts on C-to-C cables, which are necessary for faster Power Delivery charging, are bafflingly rare. Today though, you can get an Anker PowerLine II C-to-C cable for just $7 with promo code ANKERPD8.

PowerLine II cables are incredibly durable, and also come with a lifetime warranty, so if you ever do wear it out, you can contact Anker for a free replacement.
---
Yi makes our readers' favorite budget action cam, and now, they've brought that expertise to an extremely affordable dash cam.

$28 gets you the Yi Dash Cam today (with promo code DASH4DAD), this model doesn't support 1080/60 recording like another Yi dash cam we've seen (you're stuck with 1080/30), but it does have Wi-Fi for easy offloading of clips onto your phone.
---
At only 5W, this isn't Anker's fastest wireless charger around, but it's reliable, comes with a great warranty, and will be perfectly suited to overnight QI charging. Get it for $13 today with promo code ANKER258.

---
DirecTV Now is one of the better over-the-top cable replacements out there, and with this deal, there's very little reason not to give it a try.

For a limited time, if you prepay for three months of the service at $35 per month, you'll get a 4K Apple TV included for free. That Apple TV costs $179 normally, so you're basically getting a $74 discount on the box, plus three months of live TV. No brainer.
---
VPNs have been in the news, and whether you want to get around video geoblocks, circumvent proxy filters, or just keep prying eyes out of your browsing data while using sketchy public Wi-Fi, reader-favorite Private Internet Access has a deal to fit your needs.
Last month, they offered our readers $10 off two year memberships, but this time around, you get a few more choices, ranging from a quick taste of the service to an extended commitment with additional savings:
These deals are only for our readers, but we aren't sure how long they'll be available, so go ahead and sign up while you can.
It's home improvement project season, so if you expect to spend some money at Lowe's in the coming weeks and months, this deal is basically $15 for free. All you have to do is buy a $100 Lowe's gift card from Swych, and your card will be loaded with an extra $15.

Here's how it works:
1. Download the Swych app for iOS or Android.
2. Click on the Lowe's gift card in the gift card directory.
3. Select the $100 card.
4. Use promo code Honor18 to get the $15 promotional credit.
5. Check out and receive your digital gift card.
I recommend spending the money you saved on beer to drink while you operate dangerous power tools.
---
Nest threw out all of the old assumptions about home security systems, and built something pretty great with the new Nest Secure, and you can save $100 on the usual price of the starter bundle today at Home Depot.

$400 gets you the Nest Guard (the big keypad thing that doubles as a motion detector), a couple of Nest Tags that can disarm it instantly, and two Nest Detects which can monitor entire rooms for motion, and also detect when windows or doors open.
Gizmodo's review has more details about how all of these pieces fit together, and there are more add-ons that you can purchase a la carte to fit your home's needs.
---
You might not need to use a Dremel all that often, but it's one of those things everyone should keep in their tool box, if only for sanding wood and carving jack-o-lanterns. Today only as part of a Gold Box deal, Amazon's discounting the Dremel 3000 to an all-time low $45 (from about $65-$70).

The Dremel 3000 features a variable speed motor that can spin anywhere from 5,000 to 35,000 RPM, and includes 28 accessories to get you started with projects all around the house. Father's Day is just a few weeks away, and this could be a great gift if you already own one yourself. Just remember that this is a Gold Box deal, meaning this price is only available today, or until sold out.
---
If you're in the market for a new rug or two, head over to Woot and dig into their selection of discounted rugs. They have a traditional patterns, modern abstract, and a few in between, offered in sizes up to 7'10"x 10'10". This sale will only last until the end of the day, so you'd better hurry.
Also, for today only, Woot has waived the $5 shipping for non-Prime members, so everything will ship for free.
---
If you want to check China off your bucket list, it's cheaper than you might expect with this tour package from Gate 1 Travel, in partnership with Travelzoo.

Note: If the link doesn't work, try pausing your ad blocker.
For as little as $1,299 from Los Angeles or New York, you'll get roundtrip airfare into Beijing and out of Shanghai, nine nights accommodations (including four on a Yangtze river cruise), all of your transfers, a bunch of free meals, entrance fees to all activities, and local, English-speaking guides at all of your destinations. Booking this trip on your own, you could easily spend that much money on airfare alone.
Just be sure to use promo code TZWCHLA to save $200 on any package from Los Angeles, or code TZWCHNY for $250 off departures from New York. And remember to pay with Chase Sapphire Preferred or Chase Sapphire Reserve to take advantage of their 2x and 3x earning potential on travel purchases. You could use those points to help book a domestic positioning flight to LA or New York, if you don't live in one of those cities.
---
Beyond the standard $50 discounts you hear about in the middle of every podcast, Casper mattresses don't go on sale often, and Casper accessory deals are even rarer. But this weekend only, Casper's 10% Memorial Day sitewide sale holds the promise of serious savings, if you still haven't gotten rid of that old coil spring.

To get this deal, you have to buy a mattress (sorry, dog mattresses don't count), so you can't take advantage if you're only shopping for accessories. But 10% savings on a standard Casper mattress works out to nearly $100 on a queen, or as much as $240 on the new, advanced Wave mattress. Just use promo code SUMMER10 at checkout to see the savings stack up.
The best part of the deal is that any accessories you order at the same time will be discounted as well. I'm personally a huge fan of Casper's pillow, but they make everything from adjustable bed frames to sheets to box springs, and unlike the mattresses, those are hardly ever eligible for discounts. You have until Memorial Day, so sleep on it if you must, but they don't run sales like this often.
---
It's barbecue season and ThermoWorks is celebrating with by discounting two of their most popular thermometers by $15 today.
First up, the Thermapen Mk4, you guys love it because it displays the temperature in 2 - 3 seconds, has a 3,000 hour battery life, is waterproof, and accurate within 0.7°F.

Here are just a few people gushing over it:

Thermapen Classic (or really any of the Thermapens). Bar none the best thermometer for cooking I have ever bought — accept no substitutes.

Somewhat expensive at ~$70-$120 range, but I've been using mine for years and years, and it still gives me an accurate reading in less than three seconds. Well, well worth the price. Especially excellent for the grill. - theburners
Without a doubt. No other thermometer comes close. I've said it before on Kinja that the Thermapen is the best piece of kitchen equipment I've ever bought. - the-return-of-samba00
We have seen this priced a little cheaper before, but it was only on one color and a little over a month ago. If you'd rather not wait around for the next sale and have your choice of color, today is a good day to buy.
ThermoWorks is also discounting their leave-in probe thermometer, perfect for smoked meats or any grilled food. It comes with two probes so you can keep track of two temperatures at once (like your meat and the grill/smoker) and allows you to view the temperatures from your couch with the included receiver. It's also $15 off today and compatible with ThermoWorks' other probe thermometers.
These make great gifts for any foodie friends or family members.
---
Anker's Eufy RoboVac line has been a hit with our readers, to say the least, and now you can save on their brand new slim model.

The RoboVac 11s actually features stronger suction than the original RoboVac 11 (1300Pa vs. 1000, and the old RoboVac 10 only had 400), and yet is nearly 1/4" thinner. That doesn't seem like much, but it can be the difference between the vacuum scooting comfortably under the couch or getting itself stuck.
The 11s will usually sell for $220, but for a limited time, you can snag one for $187, no promo code required.
---
If you've ever been to a fancy cocktail bar, you've probably noticed drinks served with giant spheres of ice. If you want to recreate that experience at home, it's surprisingly cheap and easy.

This Vogek sphere mold is just $9 today with promo code 4T9NBROD, and if you take pride in your drinks, it's worth every penny.
---
Memorial Day weekend is coming up and that means pretty much everything on Wayfair is at least 50% off. You can get even bigger savings on living room furniture, wall art, lighting, kitchen & dining room furniture, and more. They've rolled back the prices on select area rugs down to $50 and are running special discounts on Cuisinart kitchenware. So whatever your home needs, chances are Wayfair has it.
The sale ends the 28th, so head over there and start shopping.
---
This tiny tire inflator has been a hit with our readers, and now you can get one for just $12 with promo code EAYMKB3Z. Just toss it in your glove box, or even in your spare tire well, and you'll never again be forced to scrounge together quarters to use the air pump at a gas station.

---
Before you head out to the beach, you can get ready to throw some shade with Amazon's E-Z UP shelter sale.

First up is a 12' x 12' pop-up canopy that sets up in minutes, marked down to an all-time low $88.
But the more interesting deal here is the 10' x 10' Dome canopy, which is a pretty similar product on its face (though it does include a wheeled transport bag), but with the ability to pair with E-Z UP's Camping Cube product to transform into a full five-person tent.
Prices will vary a bit depending on the colors you choose, but you're looking at a little over $230 for the complete set, but that's a solid price for a 100 square foot tent, and the Camping Cube does have some cool features like power cord passthroughs, storage pockets, and even a doggy door.
---
Memorial Day Weekend, aka the unofficial start of the summer, is almost upon us. If you're planning to hit the beach or pool and didn't think to check if you needed some new swimsuits, Amazon's got you covered. Prime Members can choose from over 100 swimwear from their in-house brand Coastal Blue, including one-pieces, bikinis, rash guards, and cover-ups, and it'll all get delivered to you before you head off for the long weekend.

---
In my opinion, a classic wristwatch still looks better than any smartwatch, any day. Today only, pick up the a new timepiece from premium brands like Bulova, Marc Jacobs, Mondaine, and more for men and women. But time's a-tickin' on this deal and these prices only last until the end of the day.
---
Net-a-Porter is the place to shop for designer clothing without being looked at funny. And with their huge sale going on right now, you may actually be able to afford something without refinancing your mortgage or selling your first born. Get up to 50% off clothes, shoes, bags, and more, to make you feel better about how this year will be.
---
If REI's anniversary sale wasn't enough, they also just kicked off a huge sale on Hydro Flask's excellent bottles and tumblers, for a limited time. They call it a 50% off sale, and that's...generous. But these really are good prices compared to anywhere else on the web. Just note that the special prices are only available on select colors for each item.

---
If reliability is something you crave in a pair of shoes (if it isn't, you may need to reconsider), I bet you have Cole Haan in your closet. And if you're looking for a new pair but don't want to spend the normal asking price, Cole Haan is taking an extra 40% off all sale styles with the code EXTRA40 for their Memorial Day Sale. Finally get a pair of ZERØGRAND's (or the newer 2.ZERØGRAND's) or maybe a pair of sandals for whenever the weather decides to cooperate.

---
The REI Anniversary Sale, the retailer's biggest sale of the year, is here. Get up to 30% off on an almost overwhelming amount of outdoor gear, from camping, to paddling, to hiking, to cycling, and everything in between. Plus, take 50% off select backpacks, jackets, and clothing. It'll take some time to sort through everything, so you'd better get started now.
If you're an REI Member, you'll get 20% off any full-price item, and 20% off any REI Outlet item with the code ANNIV18.
Solo: A Star Wars Story is just one of many Star Wars stories. You can find a lot of others in the Star Wars comics, and dozens of them are on sale on ComiXology today, including several focusing on Lando, Chewie, and Han, plus newer characters like the Poe Dameron series.

---
If you're looking to expand your web design and development knowledge, this Humble Bundle is for you. They have books on Javascript, CSS, mobile app development, and a lot more. As usual, they're split among three different price tiers, and you can get them all for as little as $15, or a subset starting at just $1.
---
Update: It's back in stock for $80, sold directly by Amazon!
This is admittedly less exciting than it used to be, but if you haven't gotten your hands on an SNES Classic yet (and you definitely should!), it's back in stock for $80 on Amazon right now, with Prime shipping.

---
Have you grown numb to Cards Against Humanity, and want a new game to make everyone in the room feel uncomfortable? Gutterhead just might do the trick. It's sort of like Pictionary, but you have to draw things like "Wet Dream" or "Golden Shower." Get it for 25% off today with promo code GUTTER25.

---
We don't see PlayStation Plus deals as often as we used to, so if your membership is due to expire soon (or not), then grab another year for $48 today from eBay. Plus, if you check out with PayPal and use your Chase Freedom card, you'll get five points back per dollar.

---
$13 is cheaper than a lot of standard sized mouse pads, but today, that gets you a massive 3' wide model that can accommodate your keyboard as well. Just be sure to use promo code AUKEYXXL at checkout to save a few bucks.

---
Humble's new PC gaming bundle is all about multiplayer games, and it has a true headliner in the form of Rocket League, a game that will lead to a serious decline in your work and erosion in the relationships you hold most dear.

You'll have to pay $14 to get Rocket League, but Humble Monthly subscribers will also get a $2 wallet credit with their purchase. Several other games are also available at lower price tiers, if you already have Rocket League.
---
The clock has reset on Humble Monthly, and next month's early access game is Destiny 2.. As always, Humble Monthly is only $12 per month (or less if you prepay for longer time periods), and includes a cache of PC games each month, plus 10% off in the Humble Store, and extra benefits on certain Humble Bundles. The best part? Even if you cancel your membership, every game you add to your Steam library is yours to keep.

So if you sign up now, you'll get Destiny 2 immediately, plus a bunch of other games when the month unlocks in early June, all for $12.
TECH
HOME
LIFESTYLE
MEDIA
GAMING